[WWIB was pleased to host designer and former Glamour cover model Katiti Kironde for the event "From Cover Girl to Fashion Veteran" on April 18th. Katiti graciously shared stories about her life and work for companies ranging from Laura Ashley to TJ Maxx. Below is a summary of some of the major topics of the discussion in Katiti's words.]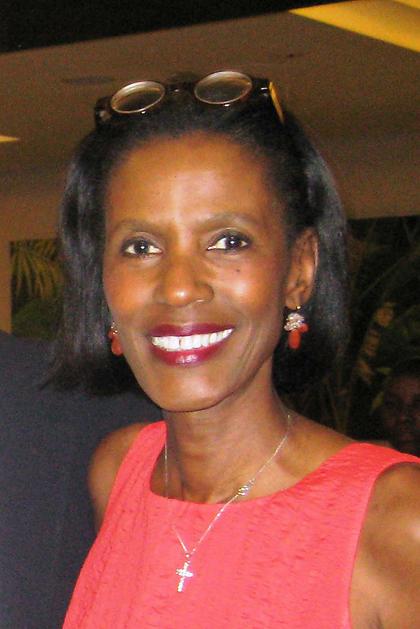 The Story Behind the Cover
I am from Uganda in East Africa, and my dad was ambassador to the U.N. He was very friendly with the American ambassador to the U.N., Adlai Stevenson II. At the time, Adlai was dating a woman who was the Editor-in-Chief of Mademoiselle magazine. She told me about Glamour's annual Best-Dressed College Girl contest, and said that I should enter. So I did. I submitted three outfits that I had designed and made myself on my sewing machine. I sent them in, and learned later that I was one of the winners. Glamour hosted a celebratory event for the other nine winners and me, and we had a wonderful time. During the event, the beauty editor told me, "You know, we think that you should be on the cover." And I said, "Ok." At the time, I didn't understand what it all meant; I was 18. So they took me, photographed me, and put me on the cover. It was quite something; the reaction was amazing. It was the best-selling issue to this day. But, truthfully, my interest was always in fashion and design. Modeling was not something that I wanted to do. So, I went to Harvard to get a liberal arts education, and I graduated. Later, I got married and had three children.
 
The Benefits of a Liberal Arts Education
Whatever you do, having a liberal arts education is like having a ground underneath your feet. I've learned how to think critically and ask questions. Recently, I've taken business classes at a graduate level. I noticed that a lot of people take the information they learn and spit it back. They never analyze it and think about it from different points of view. When the course was over, the instructor told me that I was an extraordinary student because I grasped the material and applied it. Even doing a simple job like grave-digging or pushing garbage, you'll do it better if you've had a liberal arts education because you'll be more strategic. You'll find a way to do it more efficiently. I cannot begin to tell you how I would never switch up my Harvard education to have gone to an art school.
What She Wishes She Had Known
I wish I had known that it's not easy. A lot of what design is, is solving problems. I've learned to use my mind-mapping skills to solve design problems. Design is not as easy as just deciding to make something pretty. No, it's not. You have to think of all the things that go into how you make it pretty. The picture is just the beginning; I wish I'd understood that.
Her Favorite Job
The job I loved the most was with Laura Ashley because the company was so geared toward original design. At TJ Maxx, it was much more about copying the design of more popular brands. At Laura Ashley, you could really work with people to create something new and beautiful. They had fantastic resources. There was a room full of vintage linoleum from which they would take patterns to make beautiful fabrics. It was very creative and experimental.
The Democratization of Fashion
Fashion has gone on the web, and it has become completely democratized. There is a lot of work to be done, and a lot of jobs to be had at places like RueLaLa.com and Gilt.com. These flash sale fashion companies are becoming a major part of the fashion industry; they're no longer just ways to sell previously-unsold clothing. And they're also dramatically changing the outlet store industry.
———————————————————-
Article written by Emily Grandjean
———————————————————-